Every time a new Alexander McQueen Collection comes out, I gaze, mouth open at each beautiful piece and design.
A lot of people don't understand his latest collection.. they think its a mess of colours and clashes representing animals... but I think it's
extraordinary
.
McQueen uses the most intricate patterns, and the work which he has put into piece is exquisite. The collection is made up of folds, creases, asymmetric shapes, unsymmetrical shapes, complimenting or contrasting colours, obscure flows of patterns, puffy skirts, interesting necklines, and futuristic pieces to create a mass illusion of endless magic delivered by McQueen's skills of perfection with the draping, ruching, braiding, and scaly effects.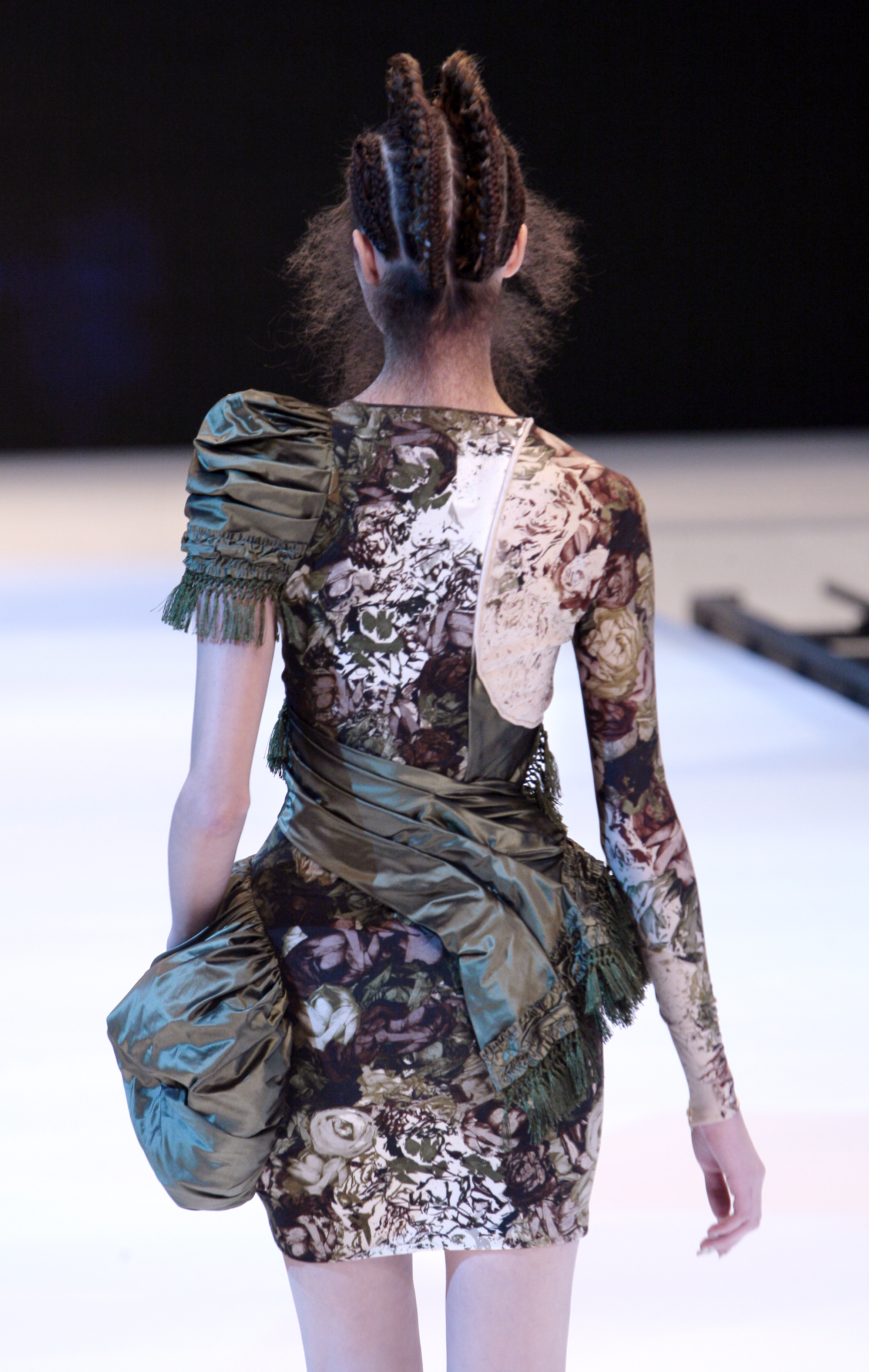 His collection is inspired by Charles Darwin's
The Origin of the species
... and his show unravelled from amphibian and reptile morphed human figures with shaven eyebrows, hair turned into horns and other odd delights, with ruffled hemlines instead of feathers, and vibrant prints and colours, into an otherworldly underwater scene in which McQueen portrayed how humans have evolved from the sea, and perhaps are destined to return to the oceans when the ice caps melt. His new take on fashion combined with art, science and theory was a high tech show and a brilliant performance.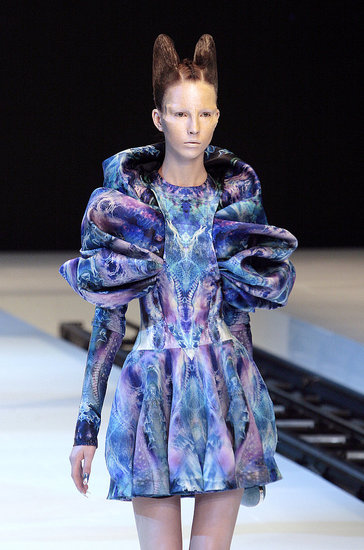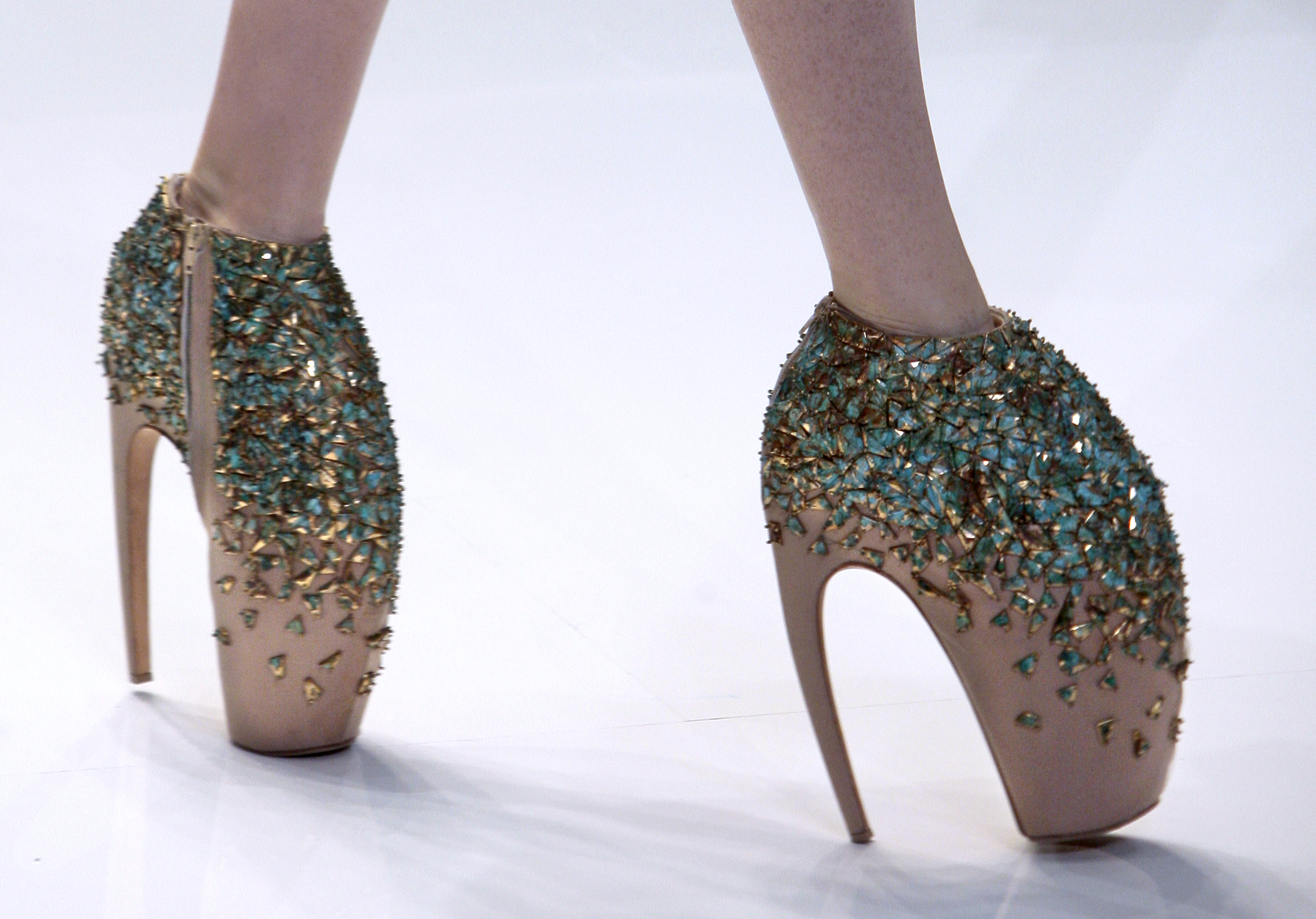 In regards to the shoes... well good on McQueen. We need some new shapes and forms- though we may not wear these particular heels- the world of fashion needs something new and interesting!
And all that hype with the three models who refused to wear them, and the attacks at McQueen for even considering the models might wear them is ridiculous. Picture a pair of very tall heels, picture someone wearing them, now picture a bundle of cloth over their feet to make a hoof shape.
I'm not sure if I've explained it correctly but that's all these are! McQueen has just put padding on top of the foot, and the foot is inside a normal high heel. OK, they are a little taller, but these models walk in crazy heels on almost every catwalk!
When I first saw these shoes I didn't care much, but now I think they are incredibly interesting, and very strong. Take the picture below for example, the structure of the shoes together not only make an obscenely strong image but they accentuate McQueen's delusional animal theme.
I particularly love the shoes pictured above- the colour itself is a very soft and pretty, and the gradient of the studs is complex yet simple and sophisticated, and the same time very alluring.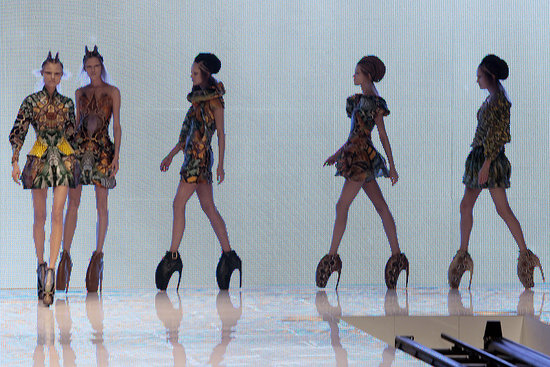 So why is he the new King? Well not only has he risen to become one of the more well known designers from the son of a taxi driver, living in a council flat with an extremely poor aducation, but explores his use of material and stage further than any of the other designers. Similar to Jean Charles De Castelbajac (another one of my favourites), McQueen explores ideas and beauty and creation, rather than the next dress to wear to the awards. At the same time, he accomplishes the next dress to wear to the awards. McQueen has and will not stop at anything- he's sent down the catwalk disabled models, butterflies, birds, women in glass cages, and blood spattered garments. Hes the bad boy of fashion;
"I'm not interested in being liked"
but underneath all that, hes a soft man who, like everyone else, adores and responds to the beauty of clothing.
(an interesting fact to add here is that McQueen once had an apprenticeship with the Prince of Wale's Tailor, and that he spent the "boring" hours by writing obscenities in the linings of Charles's Jackets- another reason why we love him)
However, no matter ghastly his creations could be, you have to admit that you can't help but stare at the intense fantasy... and surely that's what fashion is all about? Catching someone else's eye?

PS. Check out Lady Gaga's video for Bad Romance, which was not only previewed at Alexander McQueen's 2010 Spring/ summer collection, but in which she wears some of his special designs;

Back story of McQueen:
Designer: Alexander McQueen
Owned By: Gucci Group
Founded: 1992, London
History: Famous for his decadent runway shows and prodigious mastery of construction (he trained on Savile Row as a teenager and was tapped to design couture for Givenchy at 27), McQueen is variously inspired by the military, morbidity, and any number of far-flung tribes—often in the same collection. McQueen also oversees a successful women's line, as well as the diffusion brand McQ and a sportswear collection for Puma.

(quoted from http://www.gq.com/fashion-shows/brief/S2010MEN-AMCMEN)